A New Slant On Selecting The Perfect Mate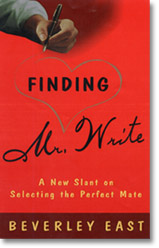 Finding Mr. Write was reviewed by USA Today as best summer read. Also seen on Good Morning America, Later Today, and MSNBC Homepage.
Finding Mr. Write is divided into 12 hours. As time is so crucial to all of us, I have given each hour a specific area of interest. So there is no need to read the entire book (although I believe there is enough in each hour to capture your attention).
Whatever you are searching for in your partner just turn to the specific hour that represents that characteristic. For example, if you are interested in his intellectual ability, turn to Eighth hour. If you are interested in what motivates him, turn to the Stroke of Seven, and if you are interested in his sexual ability race to the Ninth Hour. Also included in this hour is a survey in which more than 500 men were interviewed to provide an informed view of what men really want from women.
I begin by addressing the number one question: Can I trust him? In this section there are handwriting samples of the good guys, the gay guys and the sex offenders. If, after reading this section you find more than three characteristics in your partner's handwriting, you may consider not taking the relationship any further. There are even tips on how to bow out gracefully.
Other hours include a discussion of his ego, how he communicates, what his signature says and how sociable he is. Answers to many of the burning questions you may wish to ask on your first date, but know you can't, can be discovered through these pages. Does he do drugs? Is he gay? Is he sensitive? Does he have a temper? There is also a quiz to help prepare for your first profile.
At the Stroke of Eleven celebrates those who have passed "the seven year itch." The couples in this hour represent a cross section of different nationalities, ages and orientations including three gay couples. The longevity of their marriages/relationships span from eight to 64 years – giving us hope that it can be done. If you are short on time the quick reference guide at the back can assist you to look up individual letters.
Later when you can turn to the page that presents more detail. The book encourages the reader to think about her own purpose, through a self-testing exercise at the back of the book. It challenges her to realize what her needs are and to identify clearly the role she wants her partner to play in her life.
By the end of this book, you will have a better understanding of yourself and your partner. I hope it will assist you in making better choices for yourself in finding "Mr. Write".
So what are you waiting for? It worked for me.
---
Press and Praise for Finding Mr. Write
Recommended Best Summer Read, USA Today – July 13, 2000
I am reading your book now (Finding Mr. Write) and am finding it the most accessible graphology book I have seen. It is wonderful! Not only informative but entertaining, I can learn and have fun at the same time, I love that. Thank you for writing such a fabulous book.
— Carrie Higgins, BC Canada
I did not know that your book had all of those wonderful tips….self help…healing…and inner peace information.The tips of health, family, finance…etc…good stuff. I love it!
— Marcia Johnson
I'll say this much: When I've put a few handwriting samples to the test, the theories in this book have been eerily dead on. I'm looking at my own handwriting differently.
Combining a look at graphology and a quest for romance is what I call applied science and Ms. East pulls it off in language both fun and easy to read. Shelve this one next to your dictionary and thesaurus.
— Natalie Bridgewater
This is a refreshingly different introduction to graphology. Finding Mr Write reads almost like a novel, yet it provides essentially accurately information on the basic principles of trait stroke graphology. Beverley clearly sets out individual traits seen in handwriting while stressing that these traits must be fully evaluated when assessing personality. Her explanations are lively and amusing. A self assessment questionnaire for the prospective hunter for Mr Write sets a serious scenario for the frivilous hunter to consider.
The evidence is that this book will prove to be an excellent reference book for the serious student who is studying graphology rather than looking for the perfect mate!
— Fiona Douglas Dip, IGA, MAQG
---
Purchase
Autographed copy, includes shipping and handling
to addresses within U.S. – $20.00
Autographed copy, includes shipping and handling
to addresses outside U.S. – $28.50
Other Buying Options: